By Jensen Werley,  Reporter- Jacksonville Business Journal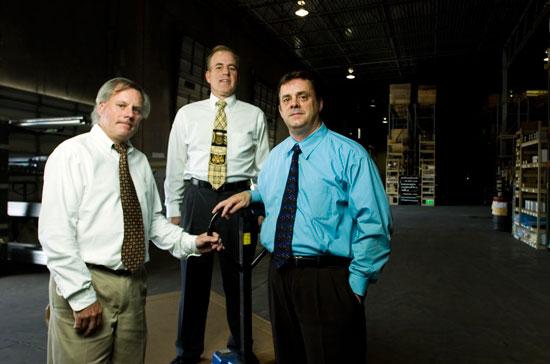 If you're looking for an alternative to Amazon, look no farther than the Jacksonville company that might have set itself up for the best branding possible.
Shipping-and-handling.com, a complete e-commerce fulfillment service, is expanding its footprint both nationally and locally.  The company, which is registered as Fulfillment Shipping and Handling Inc., is adding 40,000 square feet to its industrial warehouse space at 4011 Morton St.
But President Matt Beyler and CEO Christian Flowers said this expansion is just one of many the company has done over the years — the third expansion in four years, in fact. Flowers said in 2012 and 2013, the company bought warehouse space and in 2014 it bought office space. The company owns space on Philips Highway and Dawn Avenue as well as its Morton Street location. Now, the company is investing about $1.5 million in its latest expansion effort.
But the addition is necessary for the company, which is growing rapidly. Last year, Shipping-and-handling.com ranked 29th on the Business Journal's List of 50 fastest-growing private companies in Northeast Florida, with more than 36 percent growth over the past three years.
The company is even pursuing a project that could fill up the space almost immediately, Beyler said.
We already have a domestic network of warehouses around the United States
"We already have a domestic network of warehouses around the United States," Flowers said, citing a partnership Fulfillment had with a warehouse in Irvine, California, as an example. "We're growing nationally by generating business and leads for other fulfillment companies around the U.S. We're starting to get out of Jacksonville and move into the national picture."
This move into the national sphere is a natural step for the company, Flowers said, with a name that was bred for becoming recognized in the fulfillment realm.
"We get so many organic leads from our name," Flowers said. "Our name is brandable and marketable. We're for people who are looking for an alternative to Amazon."
Indeed, the company leaders said they have the capacity to handle all of the shipping and handling a business owner would need.
"What we do is everything for the customer or entrepreneur who wants to sell their stuff on the Internet," Flowers said. "What I mean by that is we do the back-room work, so we'll go get your product from wherever it's manufactured, bring it in through customs, bring it into our warehouse and manage the product. We also provide the IT part. We design your website if you need it to be more e-commerce capable, integrate the shopping cart into your website, and when orders come over the Internet, we do the order fulfillment."
While the instinct is to think that retailers are using this service, Beyler said most of Fulfillment's 900 customers — shared with sister company Priority Couriers, which handles last-mile logistics and transportation — are actually entrepreneurs.
"Most of them are working out of their homes," he said. "They have a day job and have a bright idea. We're warehousing their product while they're designing and marketing their products."
As Fulfillment's customer base expands — a quarter of which is local and the majority is spread throughout the country, with some as far as Australia and Ireland — Beyler said it's the perfect time to get into the e-commerce business. In fact, he estimated the industry is growing at about 15 percent per year.
"The world is a potential marketplace," he said.
But with its eyes focused on tackling national fulfillment services, Shipping-and-handling.com is giving its seal of approval to the First Coast.
"We're really pro-Jacksonville," Flowers said. "We're optimistic about Jacksonville. That's the reason we have made these investments in the property."